Concerts
SENSORY CONCERTS®

Does your child (or yourself) feel overwhelmed by crowds, noise, light, smell and/ or touch? Do these feelings stop you from attending public events such as concerts?
Grace Kim understands. As a mother of two young children, one of whom has Asperger's syndrome, she also knows firsthand the crucial role music plays in brain development and strives to make it accessible to everyone who needs it. That is why she has designed Sensory Concerts® especially for people with sensory/special needs, including children.
An internationally respected concert pianist and music educator, Grace and her colleagues perform classical music to small audiences in a relaxed atmosphere where various seating options, retreat spaces and on-site occupational therapist/psychologist support make it easy for you to self-regulate.
"We really don't mind if people need to move around, lie on a crash mat or take time out from everyone else for a while,'' she says. "I program the music especially with this in mind so that everyone can engage and benefit without feeling overwhelmed or restricted.''
For more information about Sensory Concerts visit their webpage here.
MOUNTAIN CONCERTS
" ...Kim put together a sparkling programme that was eminently accessible and just right for the relaxed setting, but that also satisfied musically.'' – Limelight magazine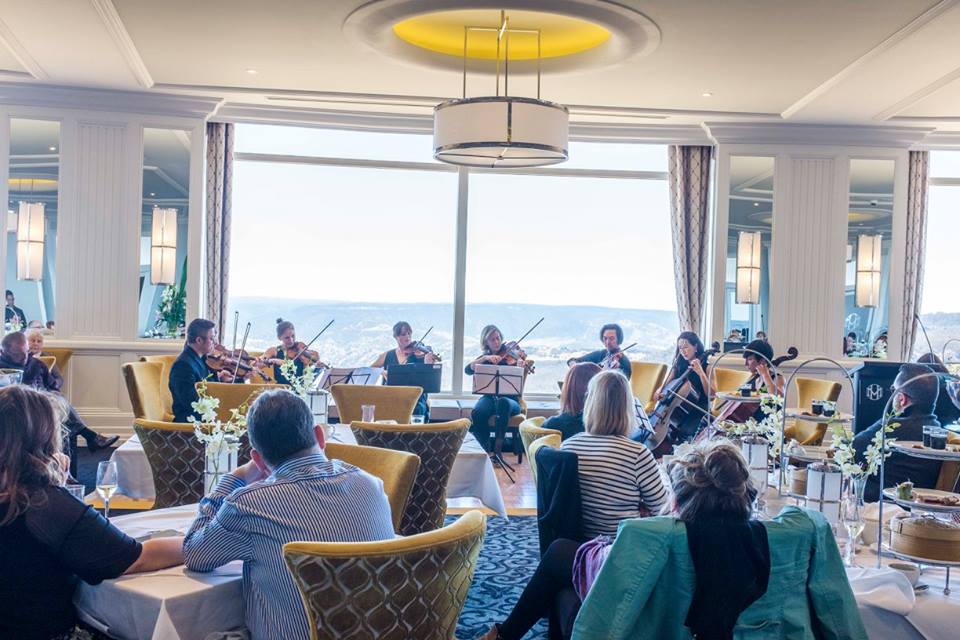 Immerse your senses in the sublime chamber music of the maestros without travelling great distance or the city costs of parking, tolls and dining.
Organised by internationally acclaimed  concert pianist Grace Kim, the Mountain Concerts series brings classical musicians from around the world to the Greater Blue Mountains World Heritage Area.
2019 features the exciting WORLD PREMIERE in the rainforest valley at Scenic World Blue Mountains - a new Australian composition called "Leonard the Lyrebird" by Ian Munro based on the popular children's book by Jodie McLeod. 
Launched in 2014, Grace has used her renown to attract international soloists and principal musicians to perform at unique local venues, including the Blue Mountains Opera Festival at the Hydro Majestic Hotel for a splendid occasion similar to the magnificent concerts halls of Europe, where Grace has played before Royalty and other dignitaries to critical acclaim.
"A landscape such as the Greater Blue Mountains World Heritage Area has all the dynamics and timbres of chamber music, from the most intimate piano solo to the robust grandeur of large ensembles'' she says.
Mountain Concerts return chamber music to its origins by bringing live performances of small groups of musicians to more intimate venues. Live music performances remind people of the art of music, and music as a form of communication and a way of exploring feelings and emotions. Live music is also an unforgettable shared experience with the musicians, other audience members and even the venue itself.''
For more information about Mountain Concerts, visit their webpage here.
UPCOMING PUBLIC PERFORMANCES
2019
24 November    Sensory Concerts - Kensington, Sydney (check Facebook page for updates)
28 September  Opera Gala Concert at Rivendell, Concord
16 September   Zemlinsky Piano Trio with Jun Yi, violin Teije Hylkema, cello
12 August  Newcastle Music Festival - Sensory Concerts (check Facebook page for updates)
11 August  Newcastle Music Festival - Piano trio concert with Lerida Delbridge, Teije Hylkema, cello
20 July  Sensory Concerts - Recitals Australia, Adelaide (check Facebook page for updates)
23 June   Sensory Concerts, Sydney - Inala (check Facebook page for updates)
1-18 May   The Happy Prince - The Australian Ballet @ Sydney Opera House
14 April Melbourne Sensory Concerts 
6 April Sensory Concerts Glenbrook NSW 
24 March Wyvern Music Forestville - Piano trios by Clara Schumann and Fanny Mendelssohn
23, 24 February World Premiere of Leonard the Lyrebird: A Musical Story by Ian Munro at Scenic World, Blue Mountains. Info and tickets Here
2018
Dec 2   Sensory Concerts Christmas Special - Wrights Road Community Centre, Kellyville
Nov 22  Schools concert - Hazelbrook Public School -  presented by Your Music Inc.
Nov 11  Sensory Concerts Sydney - 2 locations Kensington, Drummoyne
Oct 6  Opera Gala @ Rivendell
26 August  Sensory Concert, Tumut NSW
15 July  Sensory Concert Melbourne @ The Arbour, Box Hill Community Arts Centre, Melbourne VIC
23 April Sensory Concert 3 @ Lower Mountains Anglican Parish, Glenbrook NSW
6-23 April Murphy - The Australian Ballet @ Sydney Opera House
2017
30 Sept-1 October  Blue Mountains Opera Festival
26 August   Sensory Concert 2 
19 August  4 Hands One Piano, Hydro Majestic Hotel
8 July  Yulefest @The Chalet  SOLD OUT*****
11 June  Le Grand Tango, Hydro Majestic
15 April  Mozart Double Piano Concerto, Christchurch NZ
1 April  Sensory Concert
12 February  Valentine's Concert "Kabarett"
2016
1-2 October Blue Mountains Opera Festival @ The Hydro Majestic, Blue Mountains
24 Sept  Sydney Chamber Music Festival
11 Sept  Mountain Concerts - Brahms clarinet sonata and trio with Frank Celata @ Korowal School, Hazelbrook
2015
29 October Mountain Concert - Piano Quartets with Rebecca Chan, Virginia Comerford, Teije Hylkema at Korowal School, Hazelbrook
9 October Winston Churchill Fellows Association 50th Anniversary National Convention - Government House, Sydney
20 September - Piano Trios with Andrew Haveron, Teije Hylkema @ Korowal School - Hazelbrook, Blue Mountains
15 August De Falla (Noches en los jardines de Espana) with Christchurch Symphony Orchestra, New Zealand
2014
1 November  Opera Night at Rivendell, Concord
14 September  Friends - Rivendell Recital Series, Concord
22 June  ABC Classic FM Sunday Live, Eugene Goossens Hall, Ultimo
4 May  Magic Island - Rivendell Recital Series, Concord
13 April  Guest pianist, Vinifera Ensemble - Independent Theatre, North Sydney
2 March Caro and Co. - Rivendell Recital Series, Concord
2013
20 December  Spiegelzaal - Het Concertgebouw, Amsterdam
1 December  Double Dutch - Rivendell Recital Series, Concord 
2 November  Opera Night at Rivendell, Rivendell Estate, Concord
26 October  ScotchArts series - Ian Roach Hall, Scotch College, Melbourne 
20 October  F. S. Delmer Memorial Concert, Sydney
17-22 September  Pianist in Residence, Shepparton VIC 
1 September  Music of Spring - Rivendell Recital Series, Concord
7 July  Stars in their eyes - Rivendell Recital Series, Concord
5 May  Magical Strings - Rivendell Recital Series, Concord
3 March  Let's celebrate! - Rivendell Recital Series, Concord 
2012
30 October - 4 November Pianist in Residence, Shepparton VIC 
11 October National Gallery, James O'Fairfax Theatre, Canberra
4-8 September Sydney Symphony Orchestra, Sydney Opera House 
22 June - 5 July Adjudicator, Sydney Eisteddfod 
25 March Op de Deel, Maarsbergen
22 January Bornse Synagogue, Borne
17 January Het Raadhuis, Hilversum
8 January Sint Aegtenkapel, Amersfoort
4 January Oude kerk, Zoetermeer
2011
14-16 October Port Fairy Spring Festival, Australia
12 October Sydney Conservatorium, Australia
3 October Killara Music Club, Sydney Australia
2 October Verbrugghen Hall, Sydney Conservatorium, Australia
21 August Klaasiek op locatie, Kessel
19 August Grachtenfestival, Amstel Hotel, Amsterdam
19 July Castelnau-Montratier, France
17 July Espère, France
16 July Goujounac, France
19 June Hagen, Germany
6-8 May CD recording, complete Mendelssohn Piano trios
28 April Bethaniënklooster, Amsterdam
26 April Het Raadhuis, Hilversum 
25 April Het Kunsthuis, Rosmalen
9 April Pieterskerk, Breukelen
18 January Het Raadhuis, Hilversum 
9 January Museum Geelvinck, Amsterdam
2010
20 December Hilversum
20 October Oude Kerk, Zoetermeer
5-10 October Pianist in Residence, Shepparton, Australia
21 August **SOLD OUT** Grachtenfestival, Amsterdam
19-26 July Linari Festival, Tuscany, Italy 
7,10,13,16,18,23,27,29 June Opera Hondenhart, Amsterdam Muziektheater 
8 June Het Raadhuis, Hilversum
9 May Spiegelzaal, Het Concertgebouw
27 March Grote Zaal, Het Concertgebouw
4 March Het Oude Kerkje van Kortenhoef
2009
9 December Borne
29 November Muziekcentrum van de Omroep, Hilversum 
12 November Stadhuis, Weesp
17 October Montsalvat, Australia 
6-8, 13-18 October Pianist in Residence, Shepparton
10 October Port Fairy Festival, Australia
27 September Zeist
5 September Grote Zaal, Musis Sacrum Arnhem
19 June Muziekgebouw aan 't IJ
 19 April Theater aan het Vrijthof, Maastricht 
11 April Keizersgracht, Amsterdam
30 March VU Amsterdam
17,18,19 February Opera Reigen, Paris
2008 
11 December Stadhuis, Weesp
16 November Kennemer theater, Beverwijk 
28 September Concertzaal de Cameleon, Amsterdam 
6,13,20,27 June Rijksmuseum, Amsterdam 
1 June Spiegelzaal, Het Concertgebouw
26 April - 4 May Shepparton, Australia
29 March Keizersgracht, Amsterdam
26 February **SOLD OUT** Podium ACANTHUS, Doesburg
20 February Borne
2007
6 October Museum Swaensteyn, Voorburg
29 September - 18 October Opera Reigen with De Bezetting Speelt
8 September Museum Hilversum 
30 August Huisconcert, Bunnik
25 August Uitmarkt, Amsterdam
20 August Sydney Conservatorium, Australia 
14 August South Melbourne Town Hall, Australia
30 July-5 August Pianist in Residence, Shepparton
28-29 July Guest teacher, Team of Pianists Masterclass, Shepparton 
1-29 June Rijksmuseum, Amsterdam 
26 May Muziekschool, Amstelveen 
13 May Keizersgracht, Amsterdam
22 April Bornse Synagogue, Borne
20 February Oude Luxor Theater, Rotterdam
2006
16-21 October Trani International Piano Competition, Italy
27 September Kasteel Duivenvoorde, Voorschoten
17-23 July Shepparton, Australia
22 June Firenze, Italy
17 June De Doelen, Rotterdam
12 May Doelen Club, Rotterdam
28 April 8.15pm Schiecentrale, Rotterdam
27 April 8.15pm Stadsgehoorzaal, Leiden
26 April 12.45pm Grote Zaal, De Doelen
15 March 8pm St. Andrews Church, Wahroonga Australia
 1-5 March Scriabin International Piano Competition, Italy
2005
10 December 1pm Rotterdam Conservatorium
27 October 12.45pm Laurenskerk, Rotterdam
30 September 3.30pm Erasmus University, Rotterdam
18 August 8.30pm Vondelpark Openluchttheater, Amsterdam 
11 August 8.30pm Vondelpark Openluchttheater, Amsterdam
25 July 1.10pm Melba Hall, University of Melbourne
18-24 July Artist in Residence, Shepparton, Australia
19 June 5pm Escher in het Paleis, Den Haag 
17 June 7.30pm Dreikönigskirche Dresden, Germany
14 June 4pm Rotterdam Conservatorium
11-12 June 11am De Doelen, Rotterdam
29 May 1pm-4.30pm Muziekgebouw aan 't IJ, Amsterdam
22 April 8pm Cox Pianoservice, Gouda
17 April 4pm Doelensociëteit De Harmonie, Rotterdam
24 March 8.15pm Gemeentehuis, Oud-Beijerland
23 January 4pm De Harmonie, Rotterdam
16 January 3.30 pm Bornse Synagogue, Borne
2004
21 December 8.30pm Teatro Magherita, Caltanisetta
19-22 December  'Bellini' International Piano Competition, Sicily
11 December 8.00pm  Baarn, Holland 
10 December 8.15pm  Bethaniënklooster, Amsterdam 
8 December 2.15pm  Borne, Holland 
1 December 12.45pm  De Doelen, Rotterdam 
25 November 1.30pm  Kinderconcert, Theatre Mosaique, Wijchen 
22-24 November  Het Reizend Muziek Gezelschap - '1e Kamermuziekfestival tussen Maas en Waal' Leur, Holland 
28 October 12.45pm  Leiden, Holland 
21 August  Piano Landmarks Series, Melbourne 
2-9 August  Artist in Residence, Shepparton 
15 June 2pm  Masters Recital - Melba Hall, Melbourne
2003
18 December 2pm  Master of Music Recital - Melba Hall, Melbourne University 
10 December 8pm  Doctorate of Music recital, Helen Ayres, violin Grace Kim, piano - Melba Hall 
8 December 8pm  Doctorate of Music Recital, Erica Kennedy, violin Grace Kim, piano - Melba Hall 
15-19 September  Piano Residence - Eastbank Centre, Shepparton 
14 September 5pm  Recital - Goulburn Valley Grammar, Shepparton 
11 September 8pm  ABC Prokofiev Project - Iwaki Auditorium, ABC Centre, Melbourne 
23 August 11am  Piano Landmarks - St. Michaels Church, Melbourne 
15 August 8pm  Piano Landmarks - Bendigo Performing Arts Centre, Bendigo 
4 August 1.10pm  Lunchhour concert - Melba Hall, Melbourne 
21 May 6pm  Melbourne University 150th Anniversary Concert - National Parliament House, Canberra 
22 February 7.30pm  Kinabo Piano Trio Concert - Bayview, Sydney
2002
Concerto Soloist, Prokofiev No.3  Liege Philharmonic Orchestra - Belgium 
Concerto Soloist, Prokofiev No.3  Musici Artis International Festival - Brussels, Belgium 
Premier Performance, Weiland Sonata No.3 for violin and piano - Melbourne 
Fellow Recital - South Melbourne Town Hall 
The Winter Concert - Malvern Mission Centre, Melbourne 
Lunch hour concert - Elder Hall, Adelaide 
Fellow Recital - Chopin Concerto No.1 - South Melbourne  Town Hall
2001
Concerto Soloist, Rachmaninoff No.2 Musici Artis International Festival - Brussels, Belgium 
Concerto Soloist, Rachmaninoff No.2 The State Orchestra of Victoria - Melbourne Concert Hall 
Concerto Soloist, Rachmaninoff No.2 The Queensland Orchestra - Queensland Performing Arts Centre, Brisbane 
2000
Recital, Piano Music of Ravel - South Melbourne Town Hall 
Concerto Soloist Prokofiev No.3, Adelaide Symphony Orchestra - Adelaide 
Concerto Soloist Prokofiev No.3, West Australian Symphony Orchestra - Perth 
ANAM National Tour - Sydney, Brisbane, Adelaide, Barossa Valley, Hobart, Perth, Darwin, Ayres Rock 
Canberra International Chamber Music Festival 
1999
Concerto Soloist, Ravel Piano Concerto, Queensland Symphony Orchestra - Brisbane 
Concert, Killara Music Club - Marian Street Theatre, Sydney 
Senior Recital - Sydney Conservatorium of Music 
Toccata Trio Recital - Turramurra Uniting Church, Sydney 
1998
Recital, Shoalhaven Music Society - Nowra, NSW 
Recital, Killara Music Club - Sydney 
Winners Concert - St. Andrews Church, Sydney 
Gala Performance - Sydney Opera House 
Recital - St. Luke's Presbyterian Church, Sydney 
ANAM Piano Program Recital - South Melbourne Town Hall 
1997
Fellowship of Music Australia Recital - Joseph Post Auditorium, Sydney 
ANAM Sonata Program Concert -Melba Hall, Melbourne - Vebbrughen Hall, Sydney 
ANAM Piano Program Recital - Melba Hall, Melbourne - Recital Hall, Brisbane 
Subscription Concert - Wyvern Music Club, Sydney 
Subscription Concert - Wahroongah Music Club, Sydney 
Subscription Concert - Killara Music Club, Sydney 
Concert, Shubertiade - Great Hall, Sydney University 
Concert, Sunday Musicale - Great Hall, Sydney University 
Prizewinners Concert - St. Andrews Church 
1996
Recital - Hills Centre, Sydney 
1995
Mostly Mozart Series - Sydney Opera House 
Concert, A Musical Evening - The Elm Centre 
ASKM Concert - University of Technology, Ku-ring-gai 
International Festival of Music - Sydney Town Hall 
Charity Concert for Relief work in Africa - Willoughby Town Hall, Sydney